Go Back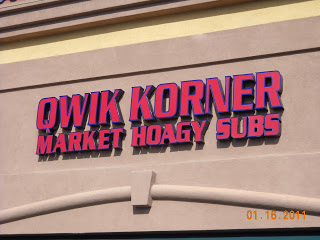 Breakfast Burrito Bliss at Qwik Korner?
Breakfast Burrito Bliss at Qwik Korner?
25 January 2011
---
Two months ago Katie and I stopped in at Lucky Boy in Pasadena to try their breakfast burrito. The burrito was fantastic, and fueled my quest to find the best breakfast burrito in the OC. That quest has brought us to Nate's Korner in Santa Ana on a recent Sunday morning.

Nate's Korner is in a largely industrial area, just north of John Wayne airport. Their menu says that they have been in the same location since 1975, but the place has a new feel to it. On this Sunday it is not too busy. While we are eating, there is a steady stream of customers getting to go orders though. The guy behind the counter says that their busiest times are weekdays for lunch, when they have six people behind the counter preparing breakfast burritos, sandwiches, and salads. Speaking of the food, let's check it out.